We Do It All.
As Horton Interiors have a standalone team of the best interior designers in Dubai, quality assured fit-out team, and dedicated project managers, we can deliver your project from inception to occupation without compromising creativity, quality, or time management.
This is often the preferred route for clients (mainly our repeat clients) as it has several benefits and advantages over the traditional method of appointing designers and fit-out teams separately. The most obvious benefit of choosing the Design & Build pathway is having one centralised team to deal with. Communication is straightforward, and responsibilities are not shared, which can reduce the overall risk of your project.
There are also many opportunities to optimise the project timeframe with Design & Build, as it illuminates time spent tendering the design and fit-out works separately, and it also offers the opportunity to overlap design, procurement, approval, and construction phases, which can save weeks on a project.
The cross-discipline coordination can also be a lot faster and smoother, as all teams (design, finance, project management, and construction) sit under the same umbrella.
In most cases having a one-stop shop for all works has a substantial cost savings for our clients. If you think Design & Build might be a good option for your project, please get in touch. We can connect you with our previous clients, who can tell you about the benefits of choosing the Design & Build route.

Horton Interiors follow the RIBA Plan of Work 2020 For all projects.
Manufacturing & Construction
During the Manufacturing & Construction phase and after the tender process and obtaining necessary approvals and permits, our team manages and executes the full fit-out works in line with the provided concept design, design drawings, and specifications.
As an ISO 9001 & 45001 certified company, we have robust quality assurance and health and safety measures in place to ensure a well-managed and organised execution. In addition to that, We can accommodate any further design development or changes. 
To ensure the client's satisfaction, we arrange a site inspection after the work is completed, perform necessary testing and commissioning and obtain final authority approval.
Additionally, we provide handover requirements such as keys, as-built drawings, operation manuals, and warranties. We always aim to make the transition to the new space smooth and enjoyable, offering ongoing contact and aftercare support for any teething issues, along with complete maintenance for the standard 12-month Defects and Liability period, including AC servicing, electrical and plumbing check-ups, and unlimited call-outs.
What makes us different from other interior design and fit-out companies in Dubai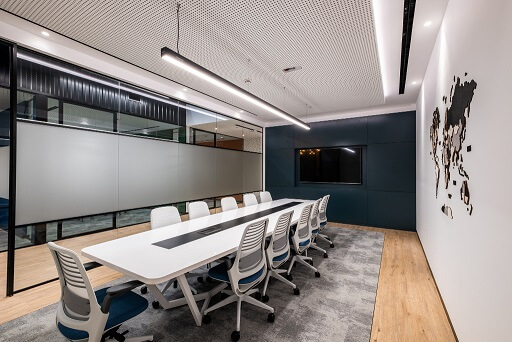 Design & Build Specialists
With a solid 10-year foundation, Horton has emerged as the region's leading design and build firm. Unlike other interior design firms in Dubai that have simply added a design team to their fit-out services or a design firm that has ventured, we have been dedicated from the outset to seamlessly managing the entire process. Our holistic approach ensures comprehensive expertise at every stage.
Award-winning Design
Horton Interiors offers exceptional design and build solutions, rivalling the best design studios. Our multidisciplinary team of award-winning designers will guide you through a bespoke design process tailored to your business needs.
Flexibility
In our collaborative design and build approach, we prioritise working in partnership with you to deliver optimal results. We value flexibility and actively engage in a joint effort to incorporate adjustments and modifications whenever necessary, ensuring the finest project outcome.
One Team
In our design and build projects, we assign a dedicated project manager, who is PMP certified, to guide you through the entire process, from inception to key handover. You can have peace of mind knowing that all aspects of your project, from design to finance and construction management, will be seamlessly managed by a single individual.